On October 16, 2018 New Delhi hosted sixth round of Consultations between the Foreign Ministries of Belarus and India. The Belarusian delegation was headed by the Deputy Minister of Foreign Affairs, Andrei Dapkiunas, the Indian side was led by the Secretary (West) of the Ministry of Foreign Affairs, Ruchi Ghanashyam.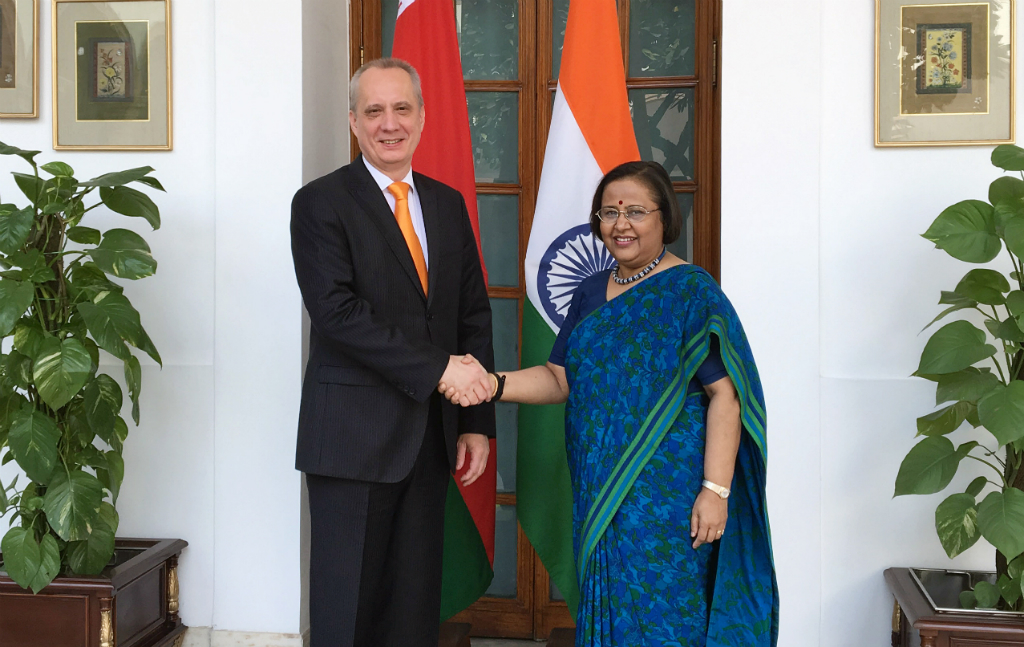 The practice of consultations between Foreign Ministries is a traditional instrument of cooperation between Belarus and India to consider topical bilateral and international issues. The previous round of consultations was held in Minsk in November 2016.
The Deputy Ministers of Foreign Affairs of Belarus and India discussed the state of bilateral political and inter-parliamentary dialogue, economic and investment cooperation, interregional collaboration, scientific, technical, educational and cultural ties, development of the legal framework of relations, cooperation in international organizations and selected issues on the international agenda.
The program and practical content of mutual visits at a high level in the near future were considered. A.Dapkiunas and R.Ghanashyam discussed the possible shift of consultations between the Foreign Ministries of Belarus and India from a biennial to an annual basis.
In the context of the development of inter-parliamentary contacts the possibility of creating a Belarusian-Indian inter-parliamentary friendship group was discussed. The Belarusian part of the future group has already been formed in the National Assembly of the Republic of Belarus.
Belarus and India agreed to continue the dialogue and formulated next practical steps to develop the concept of the Belarusian-Indian industrial and investment cluster in the special economic zone "Bremino-Orsha". The decision to establish a working group for a detailed discussion of this topic was taken by the Belarusian-Indian Intergovernmental Commission on Cooperation in the Field of Economy, Trade, Industry, Science, Technology and Culture in September 2018.
India reaffirmed support for Belarus's accession to the World Trade Organization.
A.Dapkiunas and R.Ghanashyam supported the need to further simplify the conditions for mutual trips of citizens of the two countries. India will explore the possibility of providing Belarusian citizens with the opportunity to obtain an electronic Indian visa.
Opportunities for the development of cooperation between Belarus and India in the framework of multilateral organizations, including the UN, the Shanghai Cooperation Organization and the Non-Aligned Movement, were discussed.